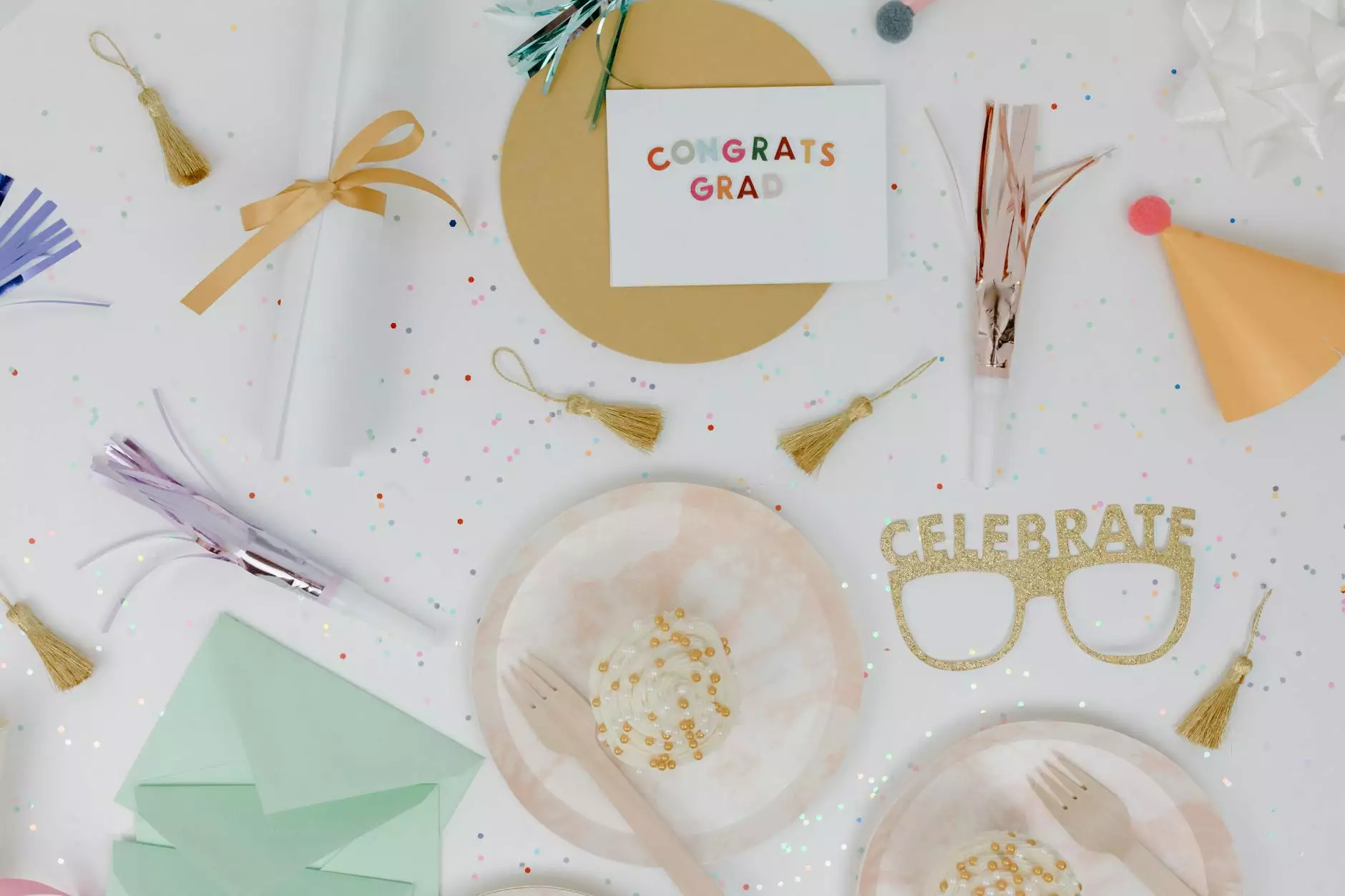 Introduction
Congratulations! Your loved one is about to graduate, and now it's time to celebrate their success with a memorable graduation party. If you're looking for creative and unique decoration ideas in Des Moines, you've come to the right place. Jb Photography is here to provide you with expert guidance to ensure your graduation party is nothing short of spectacular.
Why Choose Des Moines for Your Graduation Party
Des Moines, known for its vibrant arts and entertainment scene, offers a wide array of options when it comes to planning a graduation party. From beautiful outdoor venues to trendy event spaces, Des Moines has something to offer for every taste and budget. With Jb Photography's assistance, you can leverage the city's artistic charm and create a party atmosphere that will leave your guests impressed.
Unique Graduation Party Decoration Ideas
At Jb Photography, we believe that a graduation party should be a reflection of the graduate's personality and achievements. We strive to provide unique decoration ideas that will make your party stand out. Here are some creative suggestions to help you get started:
1. Custom Photo Displays
Displaying cherished memories through photographs is a heartfelt way to celebrate your graduate's journey. Create a custom photo wall using their baby pictures, school years, and achievements. Personalized photo collages can also be used as table centerpieces, adding a touch of nostalgia to the celebration.
2. Themed Decor
Choose a theme that resonates with your graduate's interests and hobbies. Whether it's a book-inspired theme for an aspiring writer or a sports-themed party for a devoted athlete, incorporating themed decor will create a cohesive and visually appealing atmosphere. From table settings to decorations, let the theme guide your creative choices.
3. Graduation Cap Centerpieces
Transform graduation caps into unique centerpieces for your party tables. Personalize the caps with the graduate's name and graduation year, and add flowers or small trinkets that represent their accomplishments. These eye-catching centerpieces will not only serve as conversation starters but also make for great keepsakes.
4. Outdoor Lighting
If your party is taking place in an outdoor venue, consider using creative lighting techniques to set a magical ambiance. Use string lights, lanterns, or even projection mapping to illuminate the surroundings. These lighting effects will create an enchanting backdrop for memorable photographs and add a touch of whimsy to the celebration.
5. DIY Photo Booth
Set up a DIY photo booth as a fun and interactive activity for your guests. Provide props related to your graduate's interests and achievements, and encourage guests to capture memorable moments. A photo booth not only adds entertainment value but also creates lasting memories that attendees can take home as a token of the celebration.
Expert Assistance and Inspiration
Jb Photography is dedicated to providing you with expert assistance in planning your graduation party decorations. Our team understands the importance of creating an unforgettable experience, and we are here to help you every step of the way. From brainstorming ideas to executing the final vision, Jb Photography will ensure that your party reflects your graduate's accomplishments.
Conclusion
Planning a graduation party is an exciting endeavor, and with the help of Jb Photography, you can take it to the next level. Our creative decoration ideas will make your event a memorable one for both the graduate and guests. Explore Des Moines' arts and entertainment scene, infuse your party with personalized touches, and let your graduate's achievements shine through the thoughtful decorations.
Choose Jb Photography and make your creative graduation party decoration dreams come true. Contact us today to get started on planning an unforgettable celebration in Des Moines.